Abel Tasman 4 Day All the Way Freedom Walk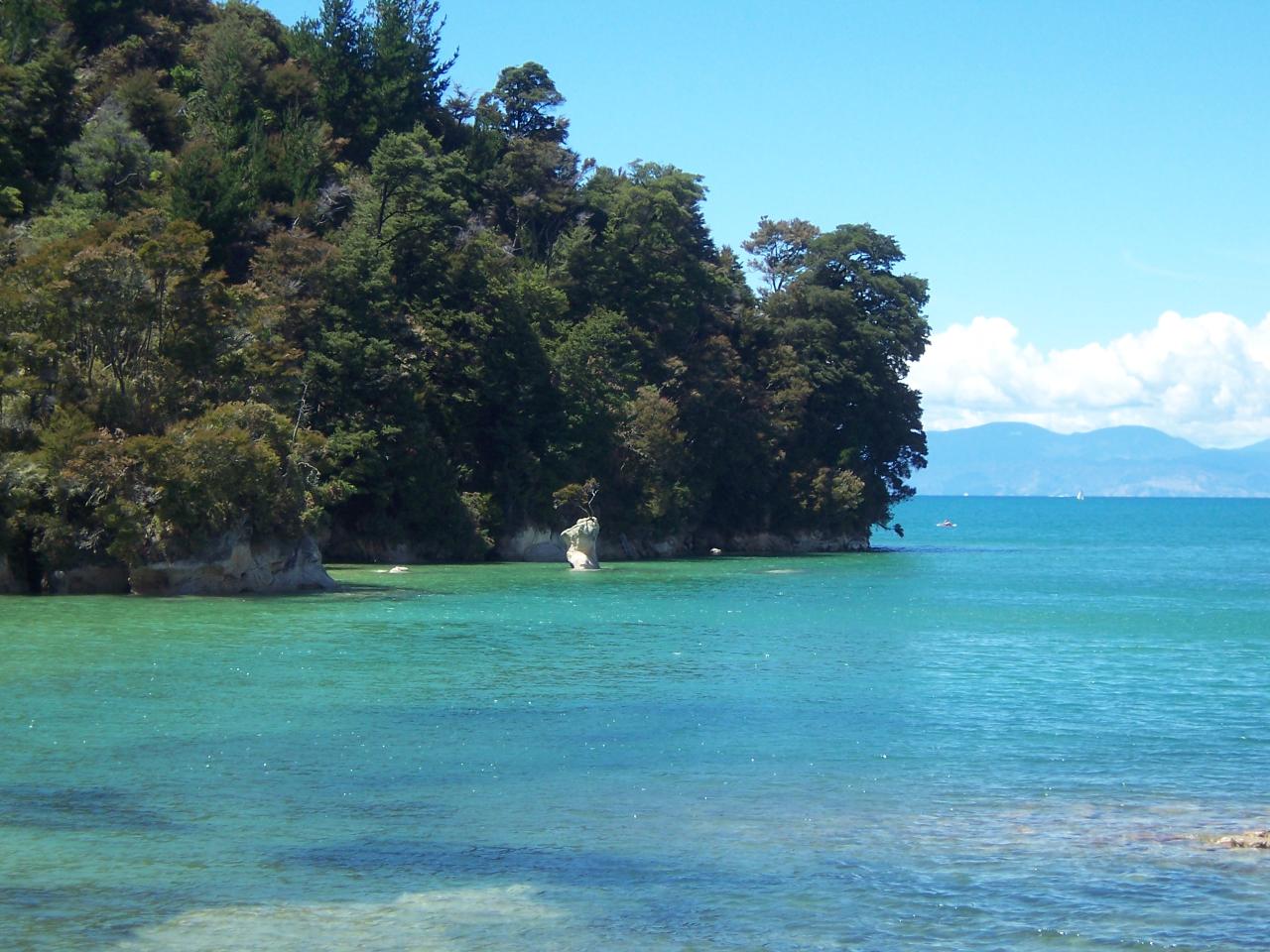 Varaktighet: 4 Dagar (cirka)
Plats: Marahau
Produktkod: AT4DATWFreedom
Subject to availability at the time of booking
Day 1 - Marahau to Anchorage (approx. 4 hours - 12.4km)
Pick up from your accommodation (or nearby) in the Nelson area at approx. 7.15am. Road transport to Marahau arriving at the AquaTaxi base there at 8.30am. Here you will be met for your full briefing, collect your lunches for today, check-in your bags for luggage transfers and then head off. The walk today is 12.4kms and passes through regenerating forest, beside beautiful golden sand beaches while paralleling the Astrolabe Roadstead – the waterway with Adele and Fishermans Islands defining it.
Enjoy walking along the beaches – Apple Tree Bay being a favourite, before gaining some altitude (approx. 100m) with resultant magical views over all of Tasman Bay, before dropping into the perfect beach of Anchorage.
Accommodation options for your first evening:
Spend the night in Anchorage in our 'Comfort Camping' site, where you'll be welcomed into the camp and offered a soft drink and some nibbles. Dinner & breakfast will be prepared by our camp guide and you'll spend the night in your own luxury tent (large enough to stand up in) large air mattresses with full bedding provide a restful sleep (breakfast and dinner included). The site doesn't have hot showers – there is only a cold outside shower, but the location is simply stunning. A glow worm cave tour in the evening, with a stroll along the beach with the moonlight shimmering in the water is a great way to complete your day.

Alternatively, you would take the water taxi back to Marahau for the evening and stay here in a B+B and enjoy dinner in one of the restaurants in the town (additional cost applies for dinner). You would then take the water taxi back to Anchorage the following morning.
Day 2 – Anchorage to Awaroa Inlet (approx. 7.5 hours - 21.9kms or 6.5hrs - 18.8kms with available tidal shortcut at Torrent Bay)
Begin walking along the wonderful beach at Anchorage, pass civilised Torrent Bay before heading up and over to the iconic Falls River swing bridge and further to Bark Bay. From this lovely bay the track heads up a large ascent before making your way back to sea level at Tonga Quarry then Onetahuti Beach. A lovely walk along crescent shaped Onetahuti Beach follows and then the last saddle sees you over to wonderful Awaroa Lodge. After a rejuvenating shower in your room you are ready to enjoy the restaurant there (not included).
Stay in the wonderful Awaroa Lodge
Day 3 - Awaroa Inlet to Totaranui (approx. 3 hours - 8.1kms Plus additional loop track walk of 1 hour (optional))
After breakfast, your walk begins with the wide tidal crossing about 20 minutes from Awaroa Lodge. Then it is into some wonderful podocarp forest before bursting out on the golden sand of Waiharakeke Bay and Goat Bay before the ascent over to the popular camping spot of Totaranui. At Totaranui enjoy one of our favourite short walks (the Pukatea loop track) before meeting our land shuttle to the highly-rated Ratanui Lodge. Enjoy time at Ratanui Lodge and maybe go for a stroll along the beach, or relax in the spa pool. Bicycles are also available to explore the area. For dinner enjoy a 3 course meal (set menu – not included in tariff) at Ratanui Lodge - they do food & service wonderfully well here!
Stay at Ratanui Lodge
Day 4 - Wainui to Totaranui (approx. 5 hours 15.5kms)
After breakfast, a short shuttle to Wainui Carpark takes you to the last section of your walk. From Wainui you are on the less travelled section of the track. The views of Wainui Inlet as you climb up into the native forest are stunning. The route today takes you up and over to Whariwharangi, then you'll have the option of walking the Separation Point Loop track (an extra hour) before heading on to Mutton Cove and Anapai Beach before arriving at Totaranui. Once at Totaranui the AquaTaxi will pick you up and return you past all those golden sand beaches to Marahau. Our land transport to Nelson departs conveniently from the AquaTaxi base dropping you in Nelson around 6pm.
Please note - Part of the track is tidal and the tides (and accommodation availability) indicate the direction of the walk and this may change from the itinerary above, according to the tide timetable of the dates you choose for your walk.