z.Paparoa Track 4 Day Guided Walk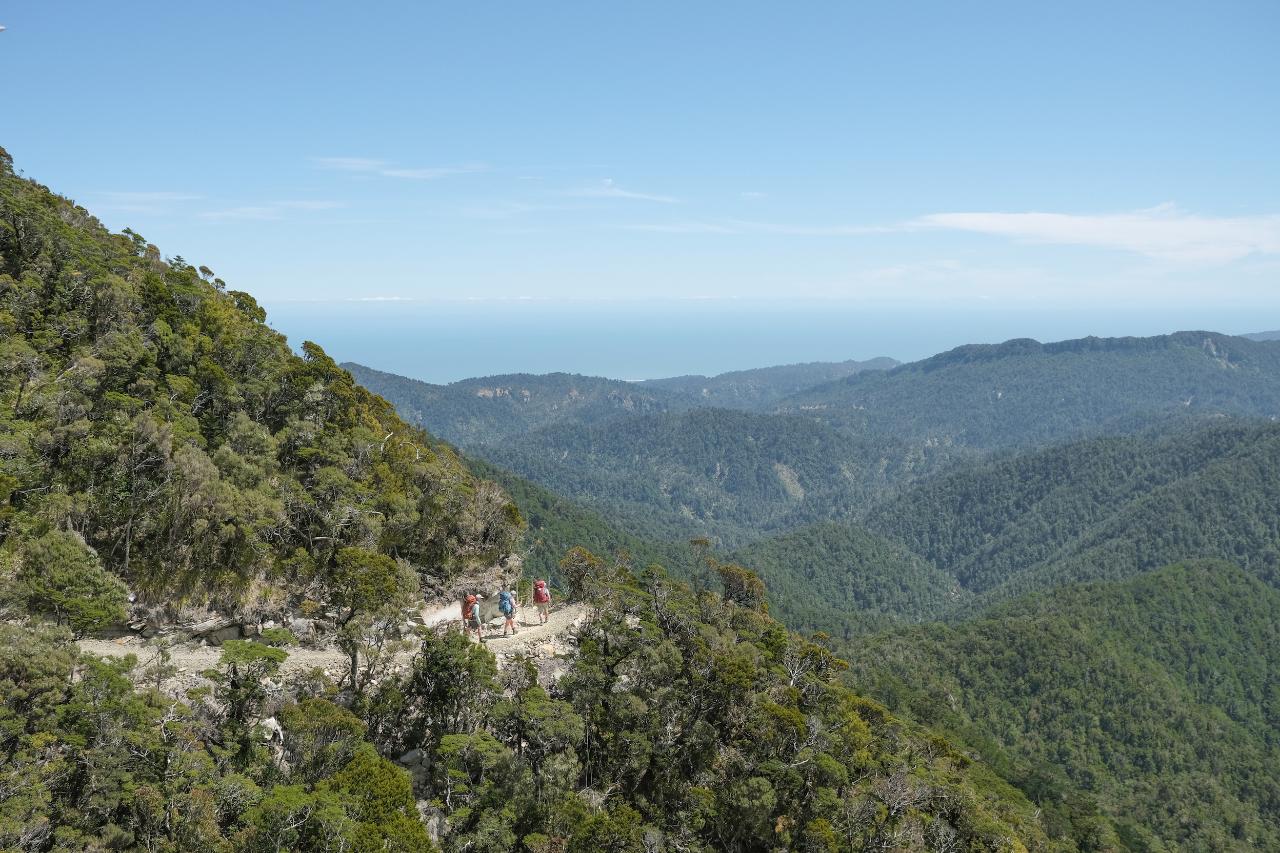 Durata: 4 Zile (aprox.)
Cod produs: PT4DGuided
Day 0
Check into your included accommodation (a Luxury Riverside cabin at the Punakaiki Beach Camp) and attend your pre trip briefing at 5pm
Day 1 - Punakaiki to Ces Clark Hut (approx 10.3km 4-5hr)
Today you start with a scenic drive from Punakaiki down The Great Coast Road, past the mining town of Blackball (where we stop for morning coffee) and on to the Smoke-ho car park and the beginning of the Paparoa Track.
The track starts by gently rising alongside Blackball Creek, past gold mining ruins and relics to Ces Clark Hut. The hut is right on the bush edge and has magnificent views of the Grey Valley and the Southern Alps. If time allows, you will take the side track to Garden Gully (45min return) where you can cross a suspension bridge and explore a century-old quartz crushing battery and collapsed mine site.
Day 2 - Ces Clark Hut to Moonlight Tops Hut (approx. 9.7km 3-4hr)
This morning you will be rewarded with expansive views of Grey River to the East and the Tasman Sea to the West. Moonlight Tops Hut provides spectacular views across the Punakaiki River headwaters to the Pike Stream escarpment and north to the Paparoa National Park.
The track climbs through alpine scrub and tussock to the ridge of the Paparoa Range and follows this North above the Roaring Meg and Moonlight Creek catchments. On a fine day, you'll have views over to Aoraki/Mt Cook, New Zealand's highest mountain. Moonlight Tops Hut is at 1000m altitude and high above the treeline making it one of the most spectacular hut locations on the walk.
Day 3 - Moonlight Tops Hut to Pororari Hut (approx. 19.1km 5-7hr)
This morning. open tops give way to alpine forest stunted by the harsh environment and includes the dramatic escarpment – a gigantic sandstone bluff extending 2km along the main range and towering above the Punakaiki headwaters. Along this section the Paparoa Track winds along the top of the escarpment where the landscape is striking with stunning views down the Pike Stream in the east, stretching west to Punakaiki and north-west to Westport.
About halfway to Pororari Hut, you descend below Mt Hawera from the escarpment to walk through ancient podocarp forest under towering cliffs. The track then follows the spine of the Tindale ridge to Pororari Hut. Roroa (great spotted kiwi) are known to inhabit the surrounding bush and can often be heard at night.
Day 4 - Pororari Hut to Punakaiki (approx. 16km 4-5hr)
This morning, the track descends and follows the upper Pororari River valley, just above the river itself, until it joins an old pack track built to establish settlement in the upper valley. The track then sidles a spectacular gorge and descends towards the coast through beech forest. From here you will catch glimpses of the lower Pororari River Gorge.
At the junction with the historic Inland Pack Track, walkers and mountain bikers diverge: walkers follow the Pororari River Track which sidles the lower gorge with its striking limestone cliffs and the gorge is lined with lush rainforest, a confusion of nikau palms and kiekie hanging off giant podocarps, that give way upriver to temperate beech forest and leads you back to the Punakaiki Beach Camp where you began just 4 days prior. Stay overnight again at your included accommodation (a Luxury Riverside cabin at the Punakaiki Beach Camp)
Day 5
Check out of your accommodation in Punakaiki ready for your onward travel