Routeburn Track 3 Day Freedom Walk - Motel Pre & Post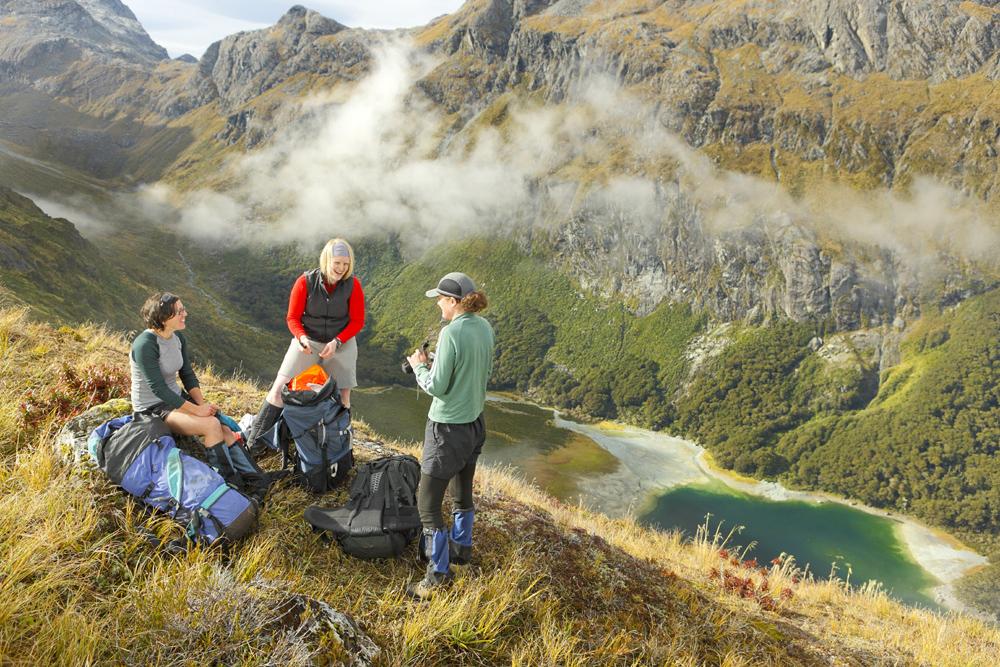 Duration: 3 Days (approx.)
Product code: Routeburn3DFreedom-Motel
Please note that accommodation is in Department of Conservation huts which are pre-booked for our guests - these are basic but comfortable and must be shared with other track walkers. Clients must carry their own pack containing clothing, sleeping bag, food and cooking equipment/eating utensils. Gas is available in the huts.
The track can be walked from either direction however below describes the route from East to West.
Day 0 - A pre-tour briefing is conducted in Queenstown the day prior at 3pm.
Day 1 – Routeburn Shelter to Routeburn Falls Hut
(Approx. 4 hours/8.8km)
Travel by bus to the head of Lake Wakatipu through Glenorchy and past Paradise to the Routeburn Shelter, the start of the Routeburn Track. On entering Mount Aspiring National Park, it is a gentle walk through beech forest and along the Routeburn Valley. A short steady climb takes you past waterfalls and up to the first night at the Routeburn Falls Hut (48 bunks), situated by the Routeburn waterfall overlooking the valley below.
Day 2 – Routeburn Falls Hut to Lake Mackenzie Hut
(Approx. 5 to 6 hours/11.3km)
Today's walk takes you over the Harris Saddle with an optional side track to the summit of Conical Hill, affording views across the Hollyford Valley and out to the Tasman Sea. The descent down to Mackenzie Hut is through alpine vegetation and a 'magical forest' covered in moss and lichen. Lake Mackenzie Hut, with 50 bunks, is situated lakeside in a hanging valley.
Day 3 – Lake Mackenzie Hut to the Divide
(Approx. 4 to 5 hours/12 km)
Experience lush forest and waterfalls before opening out to look down the Hollyford Valley and beyond. Earland Falls (174m) is a great place to take in the atmosphere before walking on to Howden Hut. Continue out to The Divide for the end of your Routeburn Track adventure. Take the side trip up Key Summit (1 to 1½ hours) if you have time before arriving at the Divide to catch the coach back to Queenstown.